I've posted this over on the OZStoc (Australian ST Owners Club) website, but I know a few people here were interested in what I got up to.. So here is is
Here is Part 1 of our ride report from Atherton, QLD to Ballarat with the ST & Gilera Fuocco 500 Scooter..
Megan who came along on the scooter was only new to motorcycling decided that she wanted to come along to the rally, with the initial plan being that she was to fly down and I would pick her up at the airport..
6 Months prior to this, she decided that she wanted to ride, one month later she had her own bike.. A 500cc Gilera Fuocco Scooter. 3 Wheels, and a whole lot of fun.. Had it delivered from Bunderberg to Cairns where I rode it home to Atherton (In the wet & dark.. when else do you take a new bike for a ride)
For the next 5 months we took her out for riding lessons whenever possible, after three months of afternoon & weekend rides, we took an overnight trip to Home Hill and back without any problems (700km round trip)
By the time we left for Ballarat , she had completed 2200km total distance traveled... this was about to change.
14th March
We decided to head off two days earlier due to a few things changing at the last minute... so it was a quick pack to get ready for a morning departure.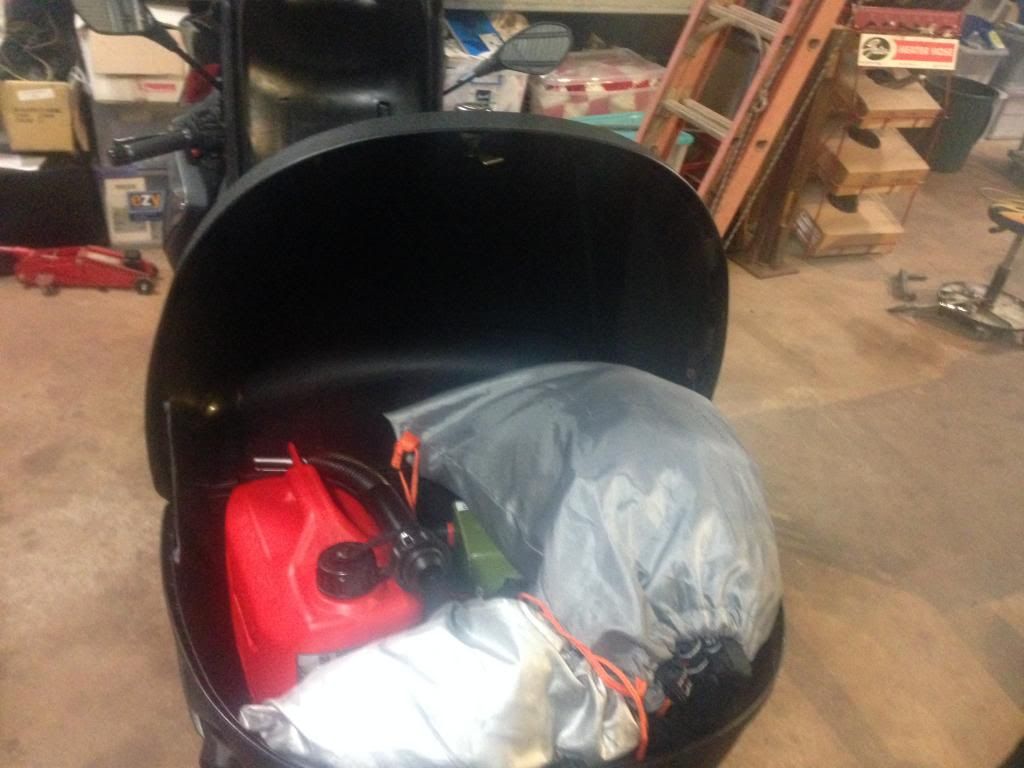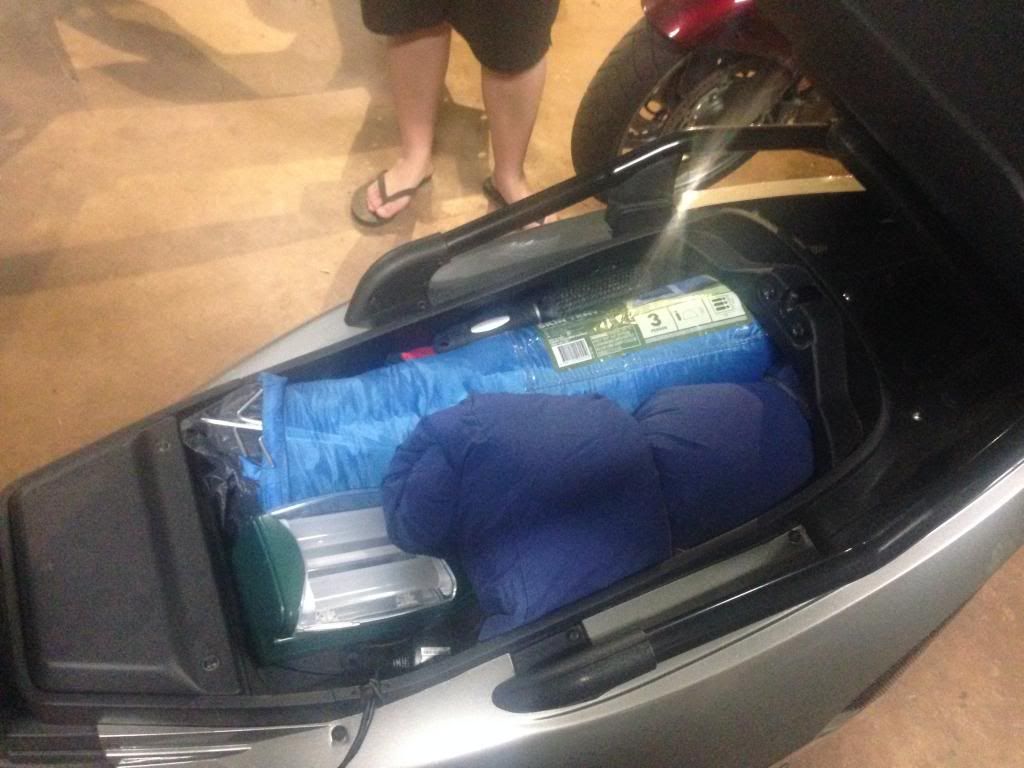 15th March
Time to head off.. Bikes all loaded, Time to put all the last few weeks of planning to good use.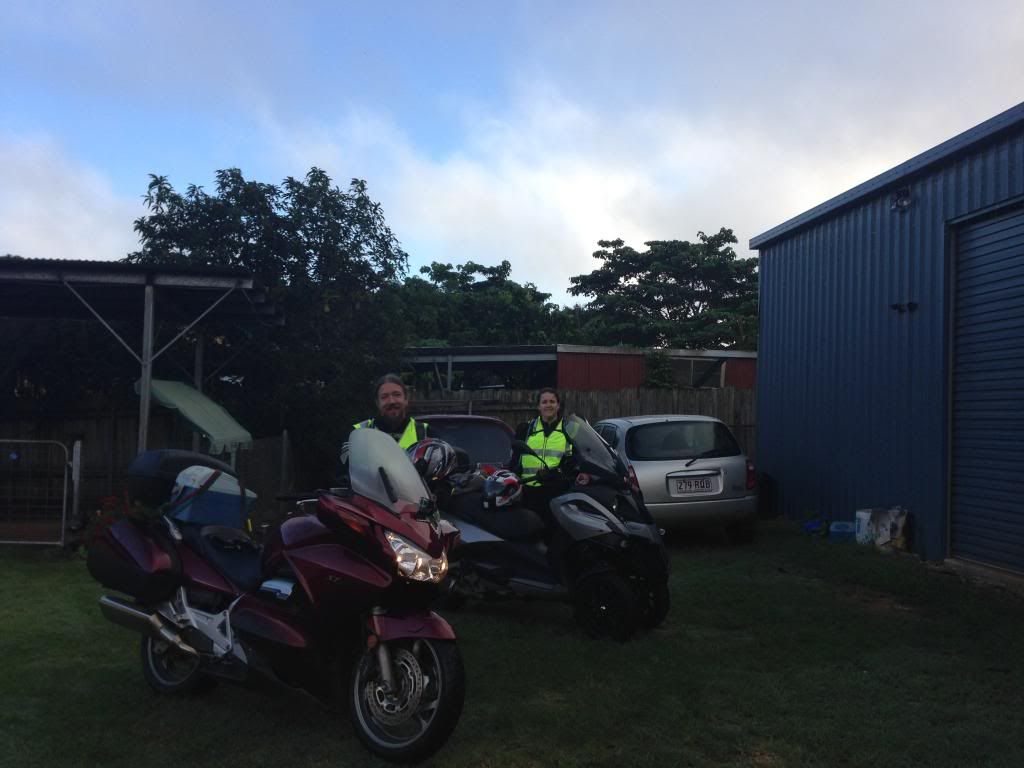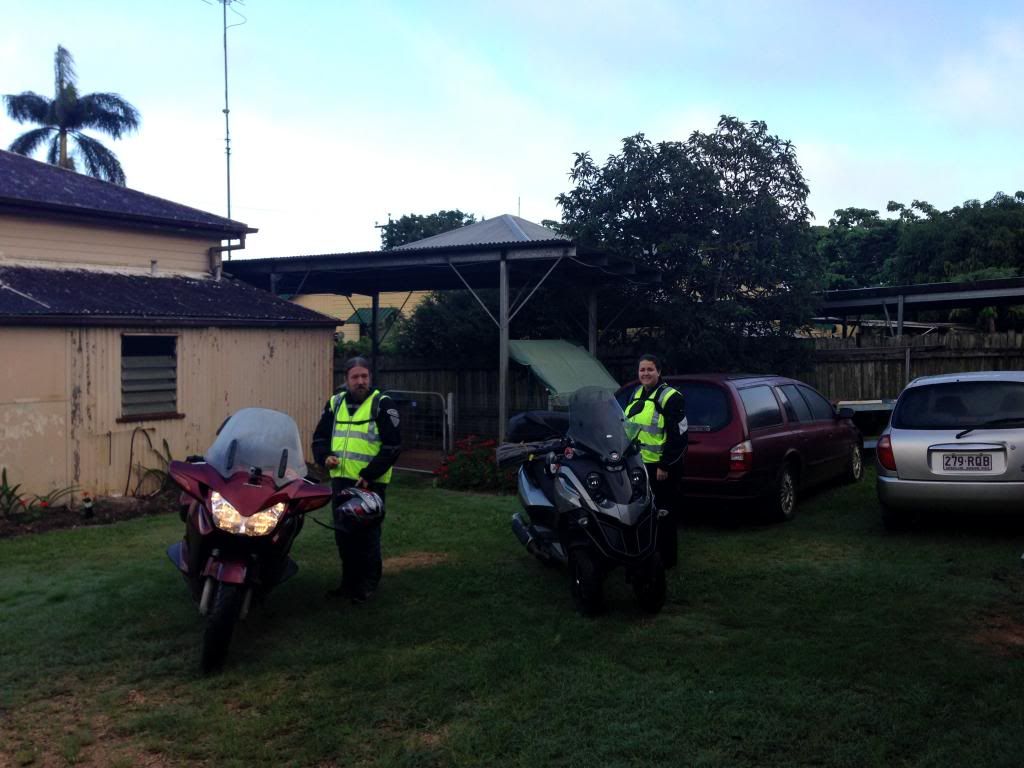 To make life interesting, the ST developed a water leak on 13th, which I hoped would settle down on the trip or worst case I'd have to get it fixed it on the way…
Oh well.. I wasn't going to miss out on the rally for a stupid leak at the last minute..
The first day was a big one.. Atherton to Clermont via Greenvale & Charters Towers. 890km according to google maps.
https://goo.gl/maps/00S7D
I know that 890km isn't the biggest day out on an ST, but for Megan to undertake this after only having her L plates 5 months, and just over 2000km of riding practice prior to heading off this was a massive day out!
We were on the road about 7:15am, first planned stop was Greenvale about 310km from home for fuel, and a stretch.. well, that didn't go to plan… at the 300km mark the scooter decided it was thirsty and promptly stopped.. Quickly emptied the 5L spare fuel into it and continued on for the fuel and stretch stop..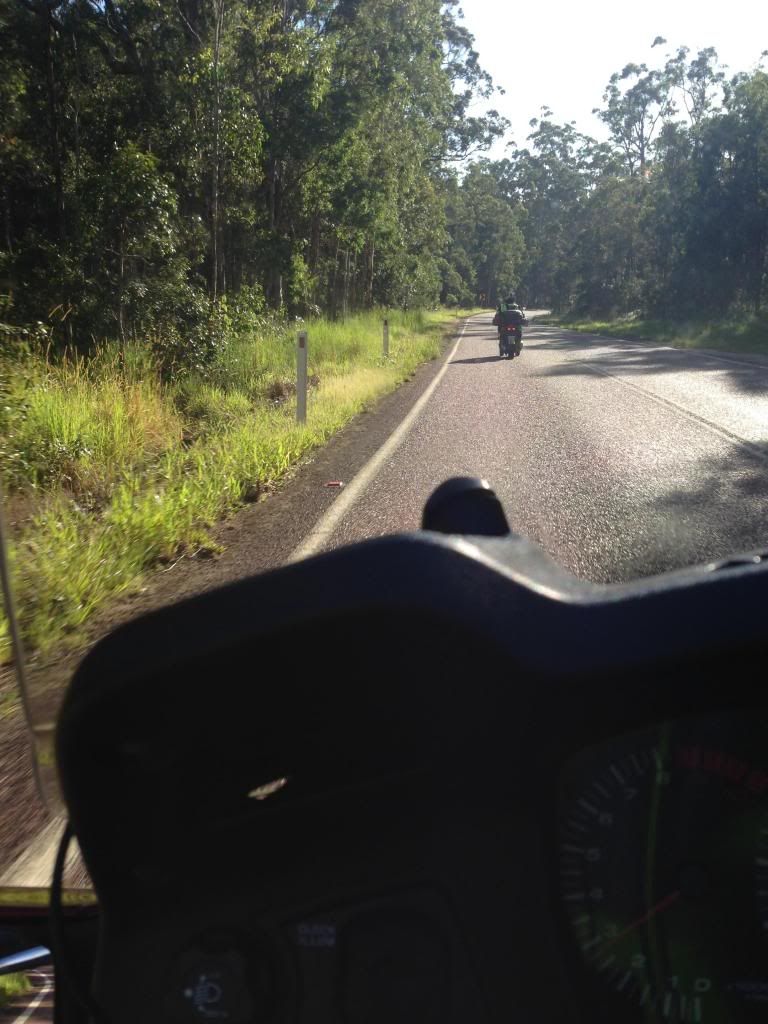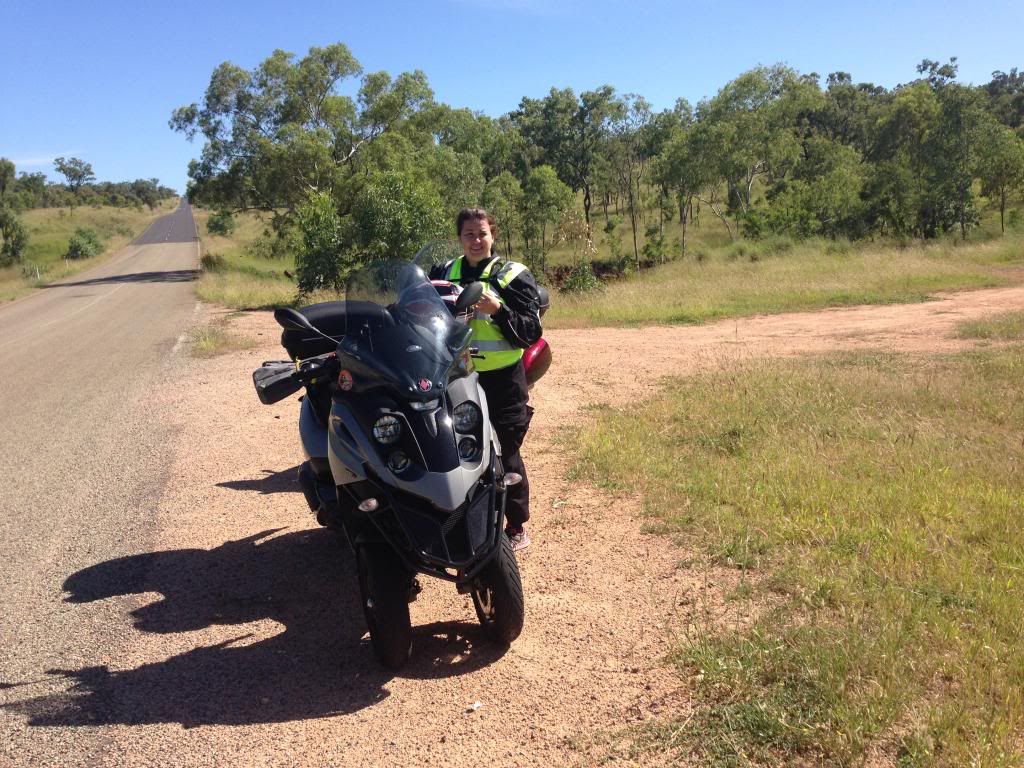 Now we know what the range of the scooter was, we continued on knowing the longest legs of the trip were just ahead.
We hit Charters towers around 1:30 for a quick refuel & lunch stop.
The next leg through to Clermont was a 380km stretch, with only one fuel stop in the middle at Belyando Crossing Roadhouse. No problems for the ST, the scooter should have been able to make it with only the 5L fuel can, but will filled up the scooter anyway..
Dearest fuel purchase of the trip at $2.05, so it was a quick refuel, drink and stretch, then back on the road to make Clermont before dark.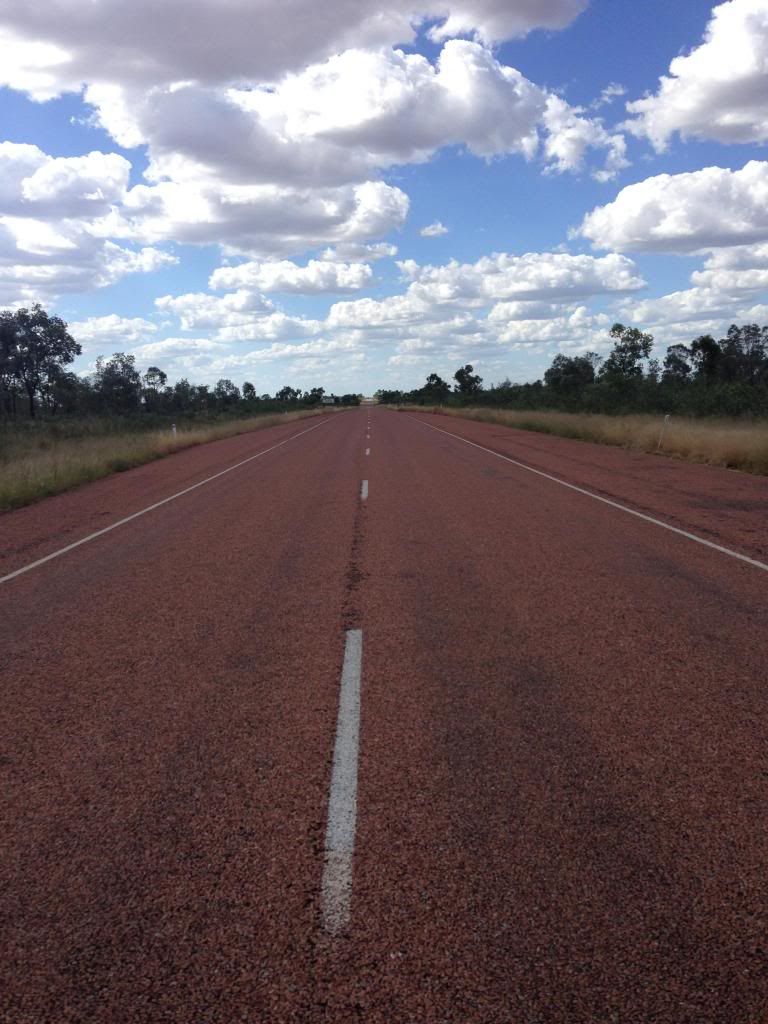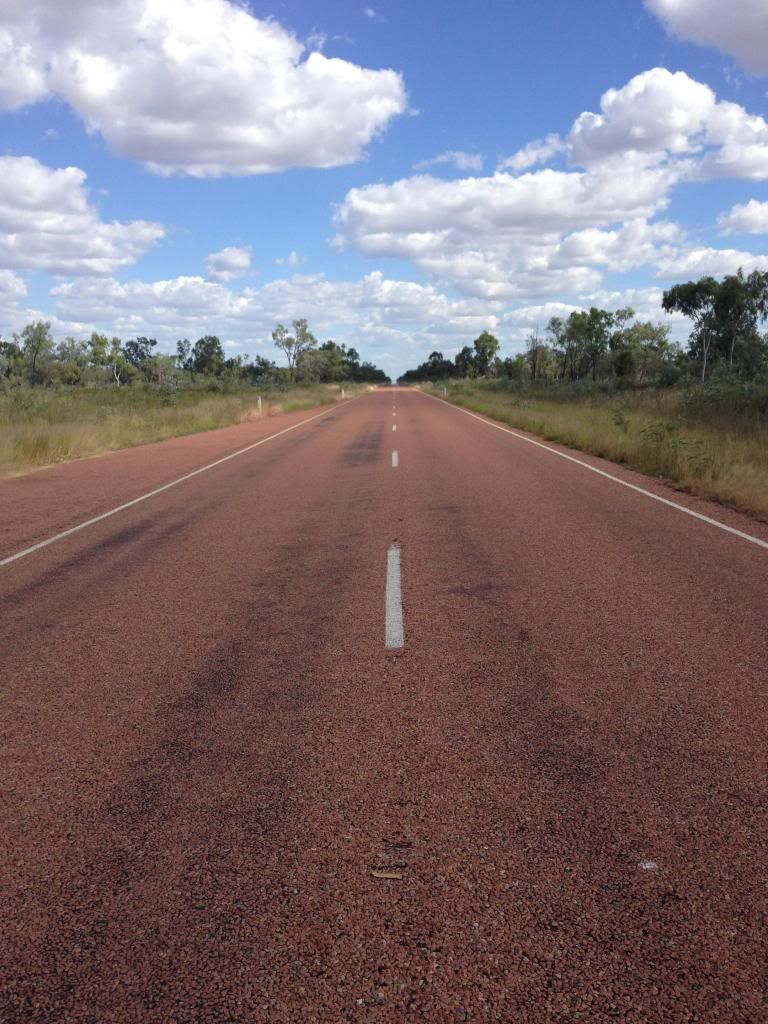 6:20pm and we arrived at Clermont, so grabbed an unpowered site at the caravan park and setup for the night. We were the only people in tents, and during the whole days riding only saw one other motorbike out on the road. Grabbed some take away meals from the pub, then settled down for the night..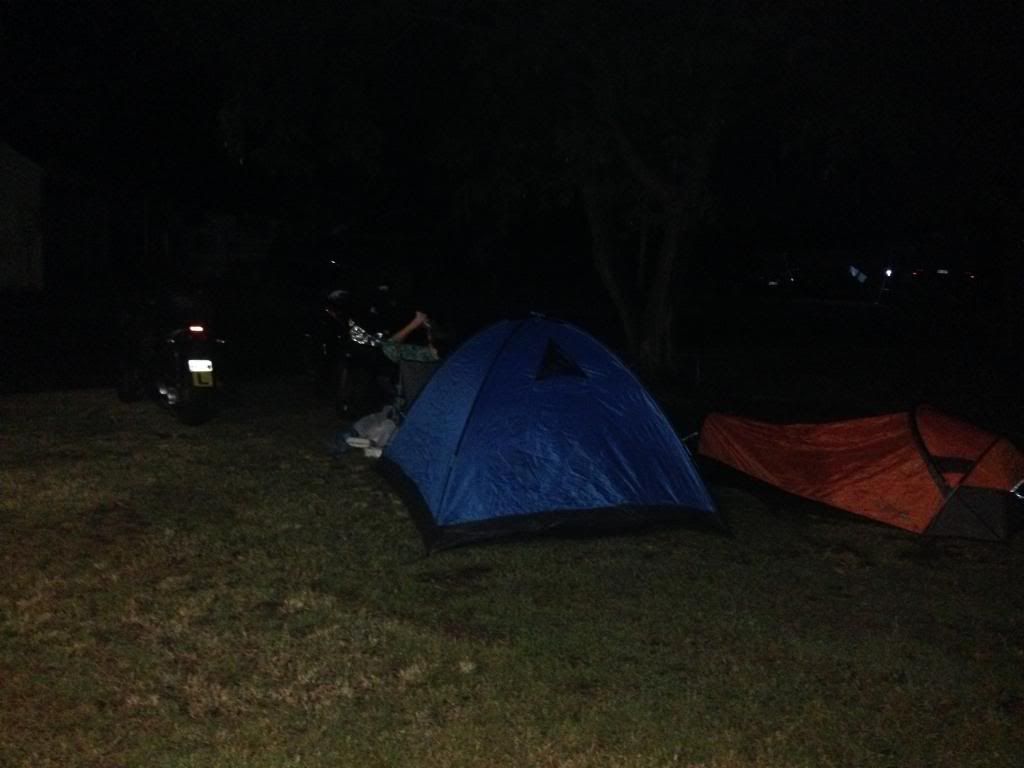 16th March
Clermont to Roma.
https://goo.gl/maps/cNryZ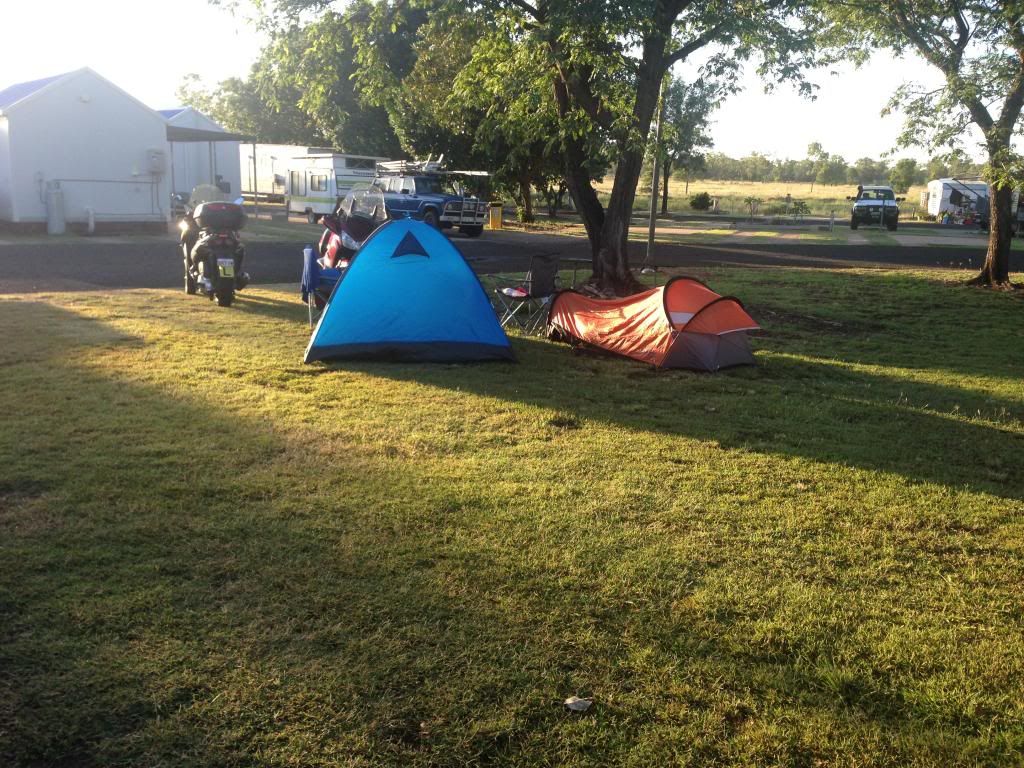 After packing up camp, and working out how to fit everything back into the bikes it was back on the road.
Morning breakfast at McDonalds in Emerald, and had a chance to catch up with a friend I hadn't seen in 14 years. Filled the bikes with fuel and away we went.
This was a mostly uneventful trip with some boring scenery, mostly dead roo's and no live grass to be seen.. 60km from Roma the mount to my top-box snapped and attempted to throw all our camping gear onto the road. Tied it up as good as we could with bungee straps and limped it into Roma, where we stopped at the "Big Rig Top Tourist Park" where we were the only people in tents once again.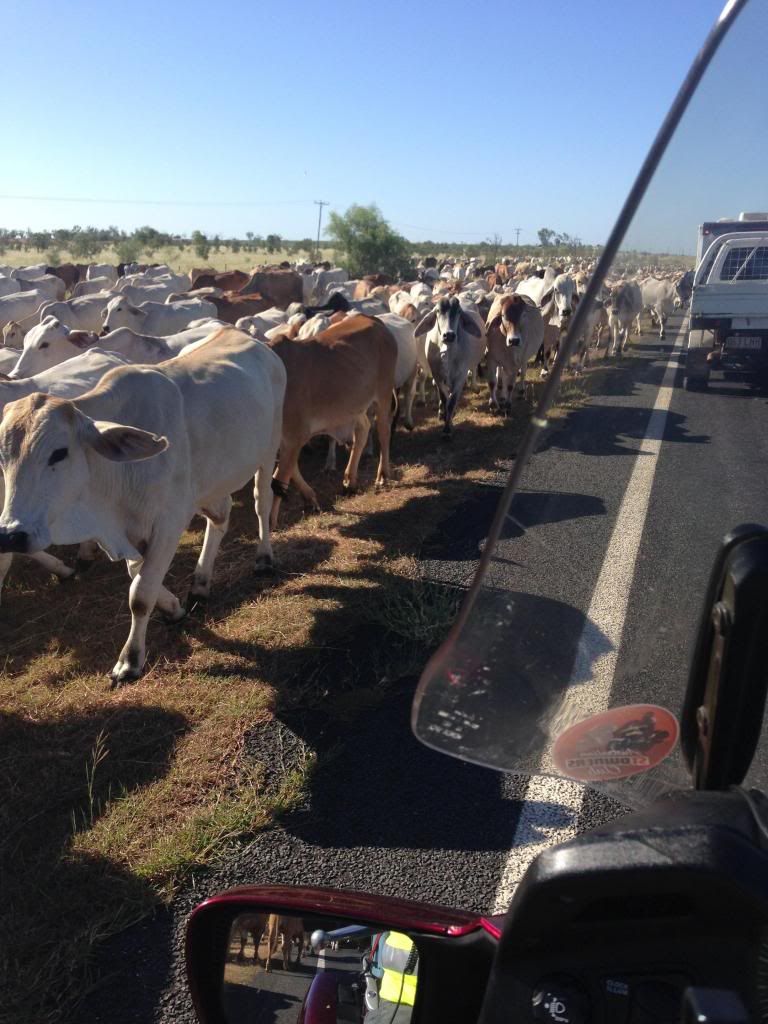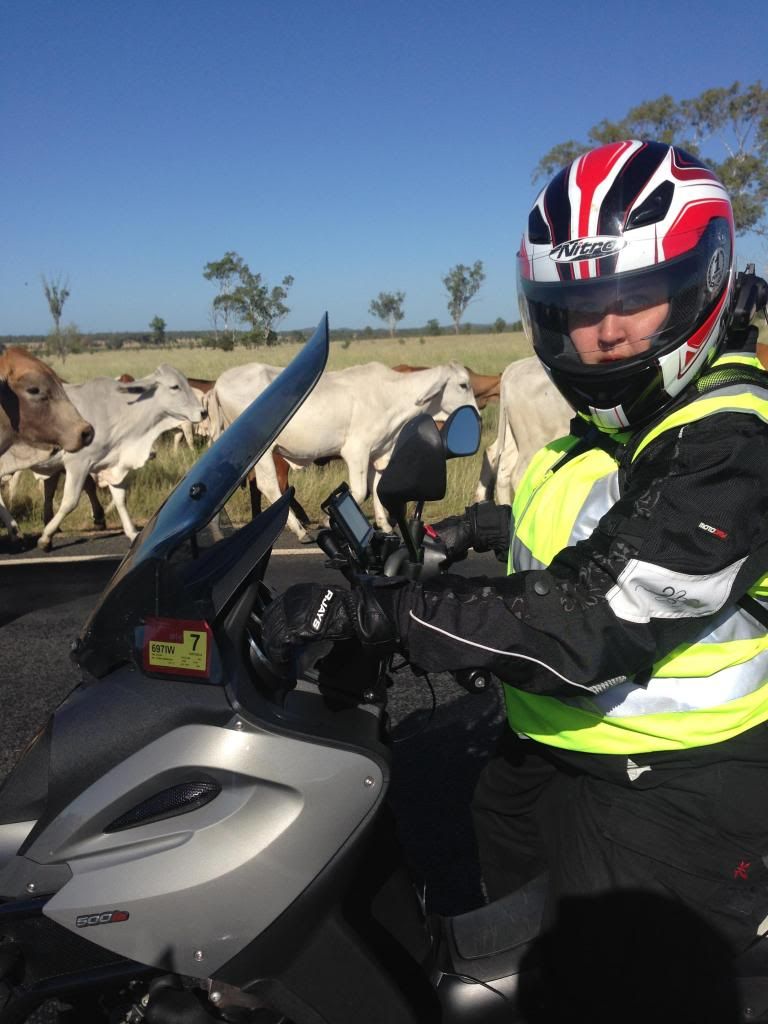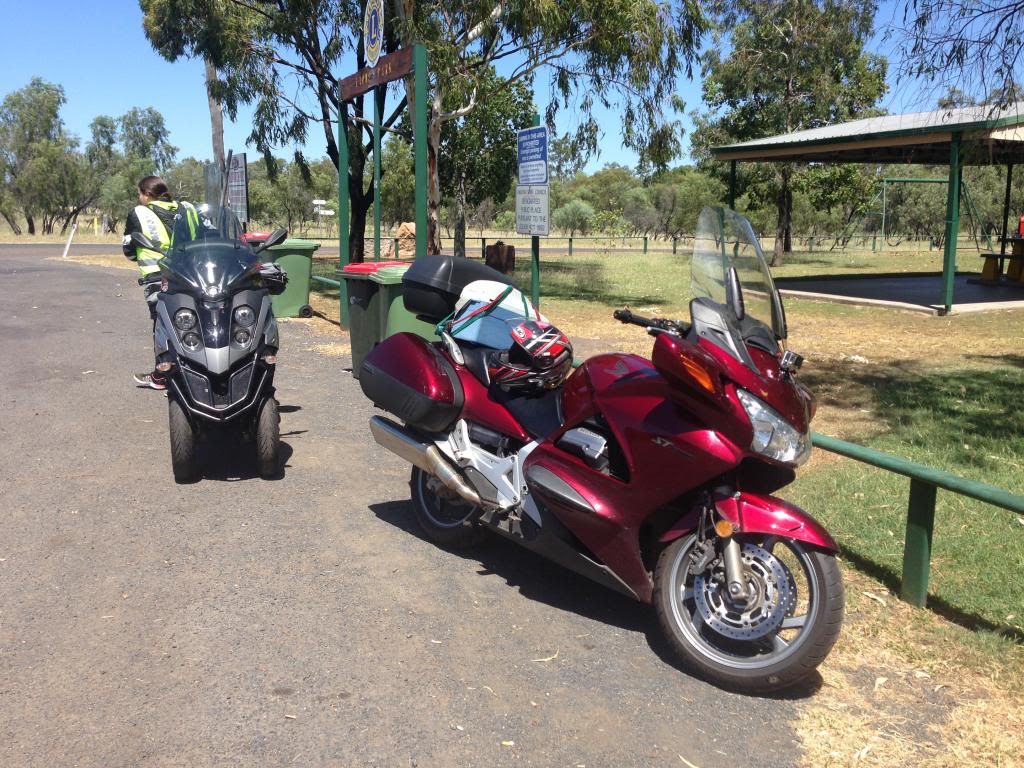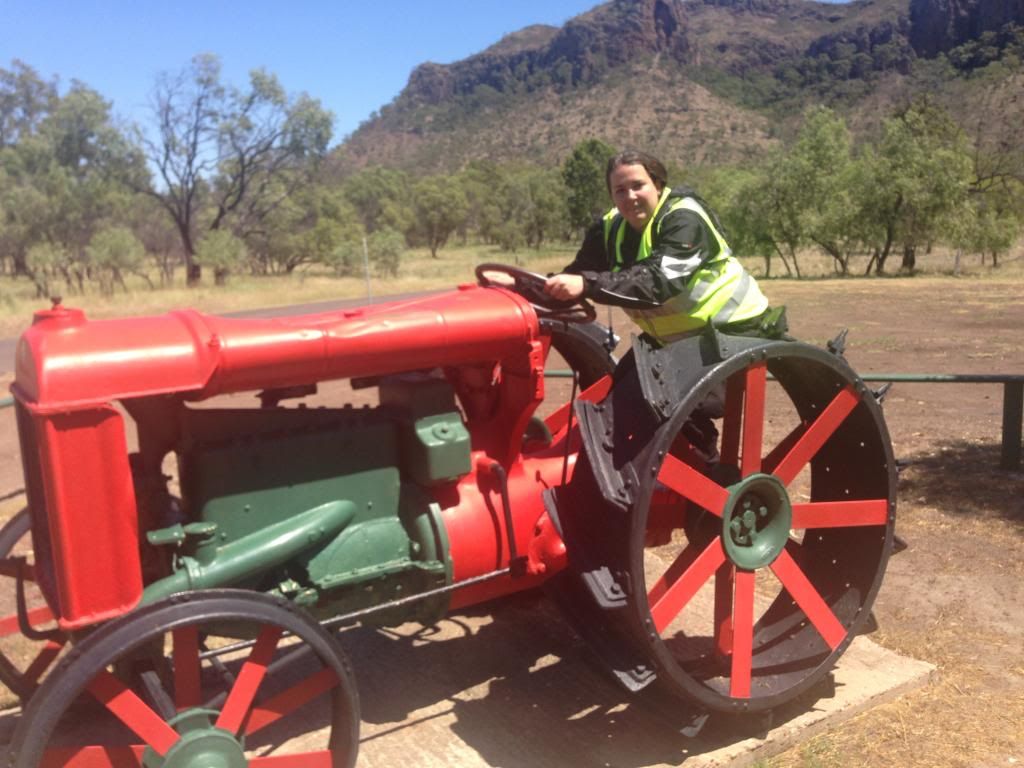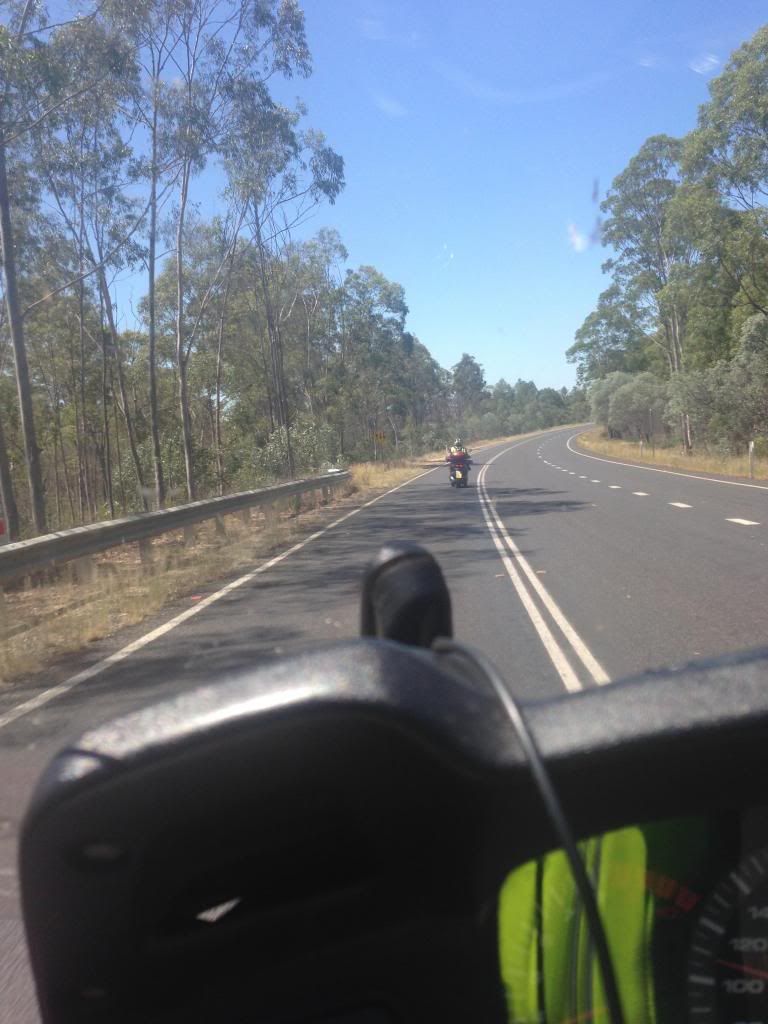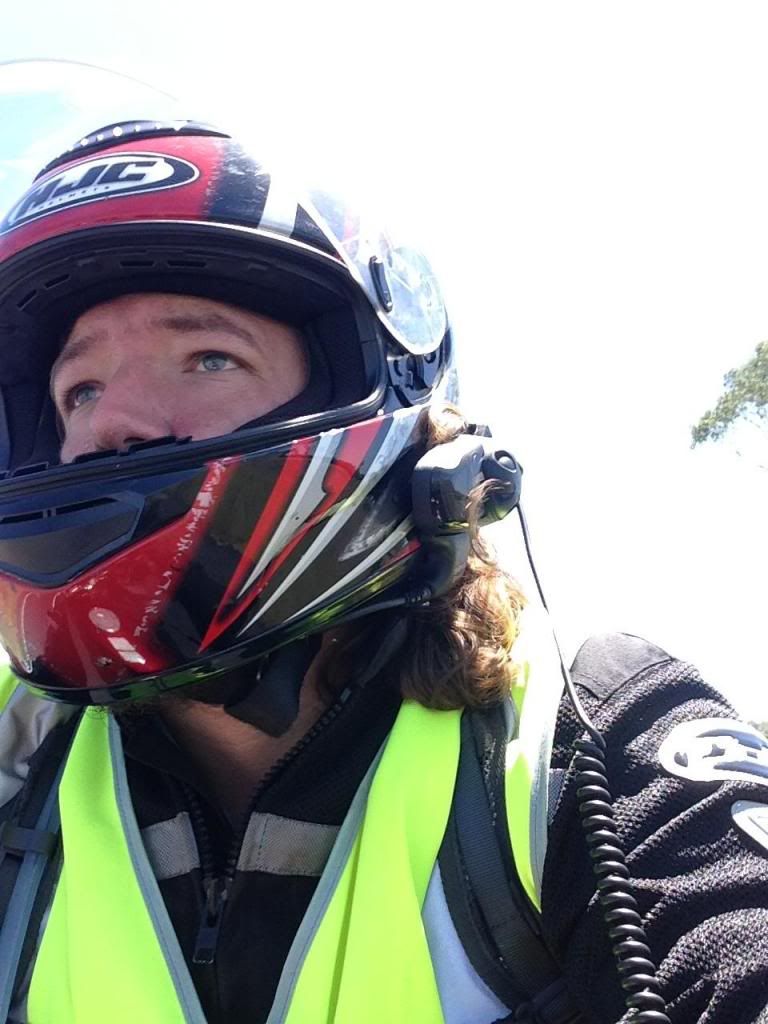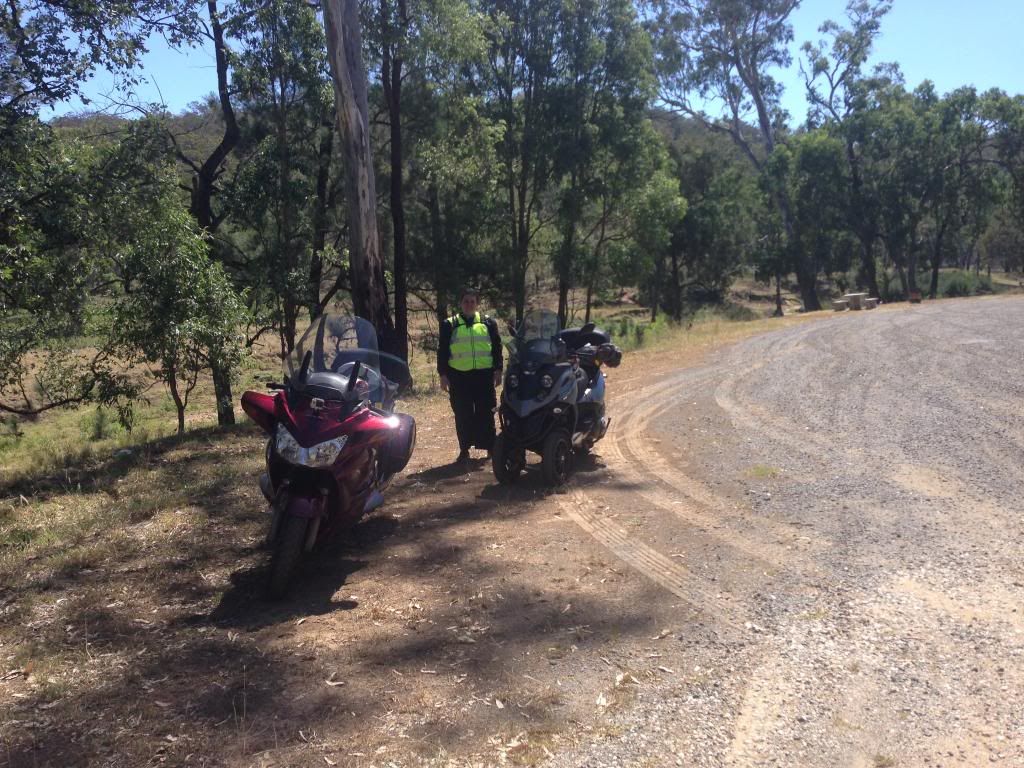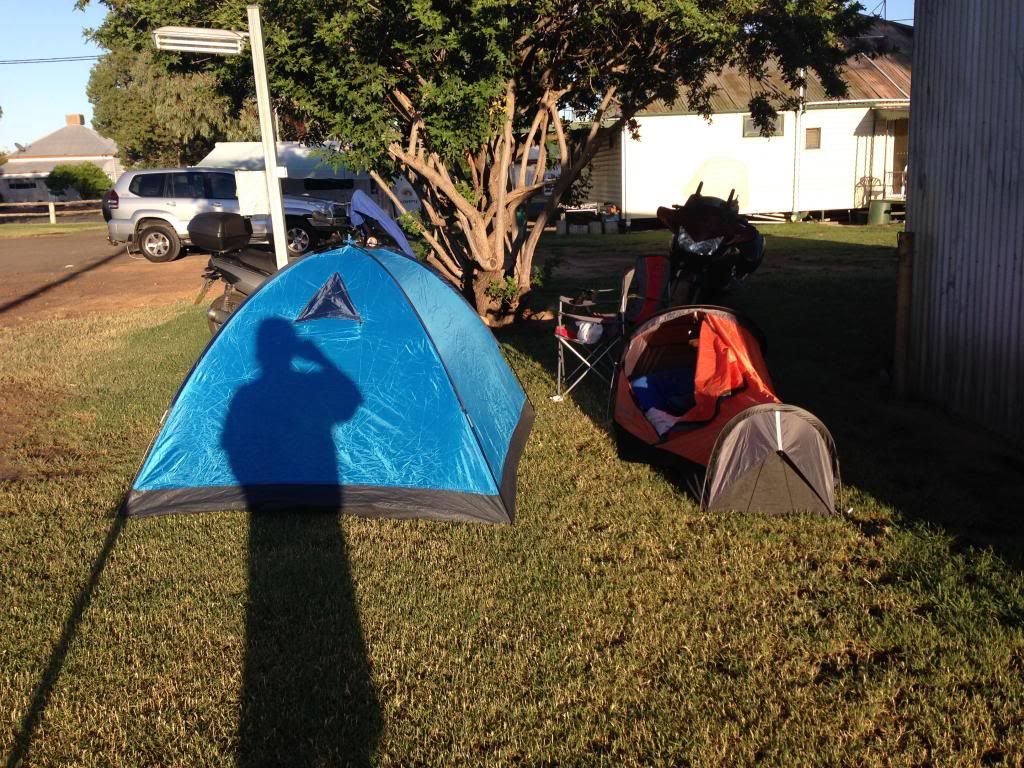 17th March
https://goo.gl/maps/vTaJq
Thanks to Streak who organised for me to borrow some tools at a friends place I was able to get the bike back together, then a quick trip around to supercheap to grab a new drinks fridge as my one died on the last leg on the day before. New fridge, plugged it in and grabbed some cold drinks, then away we went.
The plan was to head towards Dubbo, and stop when needed. Well, even with the late start we managed to get to Lightning ridge, called an early day and setup camp for the night at Lightning Ridge Outback Resort. .
New Drinks Fridge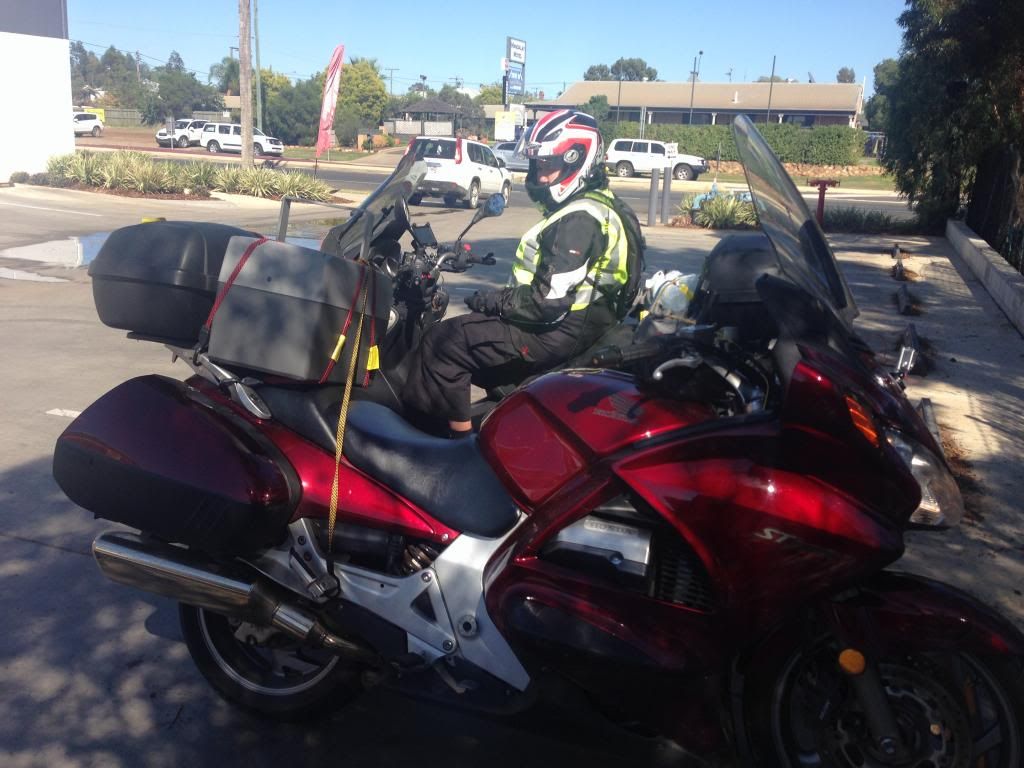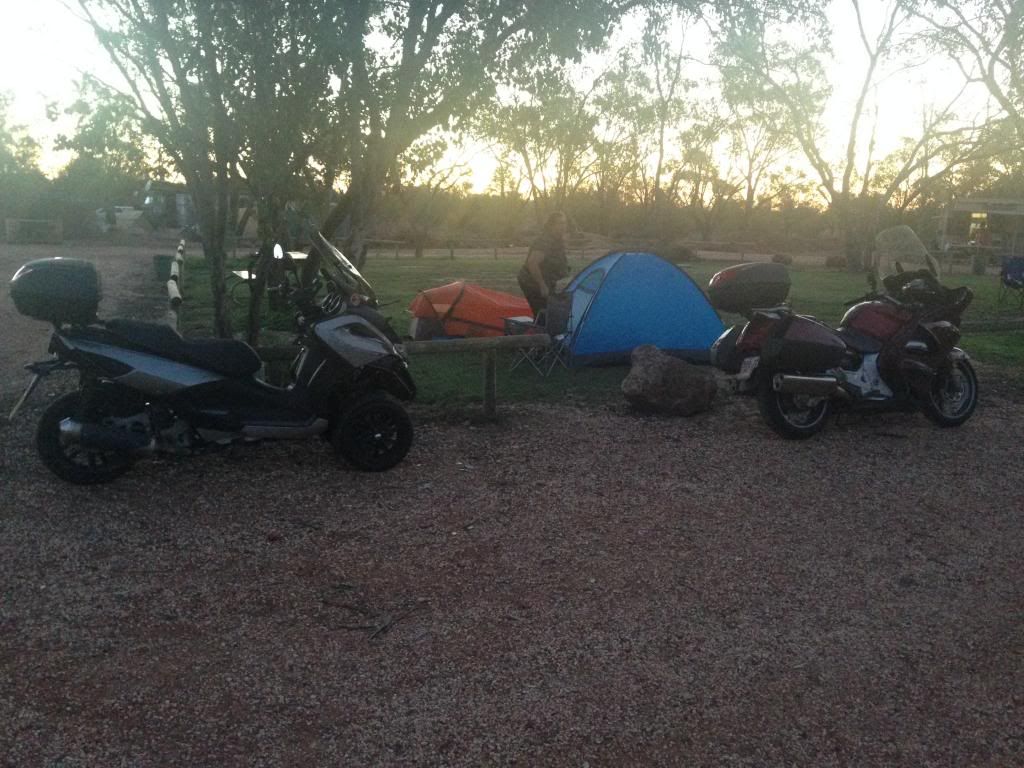 18th March
Lightning Ridge to Dubbo
https://goo.gl/maps/5BoU0
A nice early morning packup, after cursing at crossing the border, and the clocks changing timezones and making the 6am wakeup alarm a little earlier than we were expecting.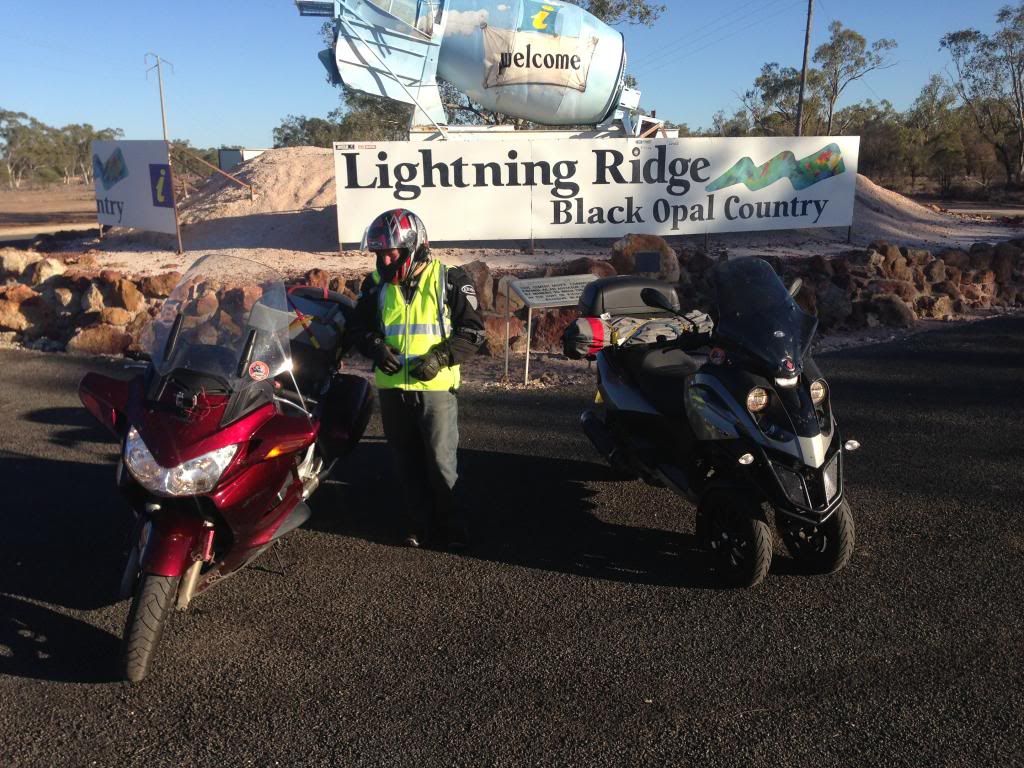 Morning stretch & Food stop at Coonamble NSW, then onto Dubbo. Straight around to the zoo and played tourist for a few hours until the zoo shut, then around to the Big 4 Caravan Park for the night, where we came across the first other bikes we had seen touring around, camped just up from where we had setup. Two couples riding oversized air compressors around (Harleys
)
We had a relaxing afternoon, which was nice after a few big days on the road was nice, did the washing and just relaxed.. An early night so we could get to the zoo in the morning to finish looking around.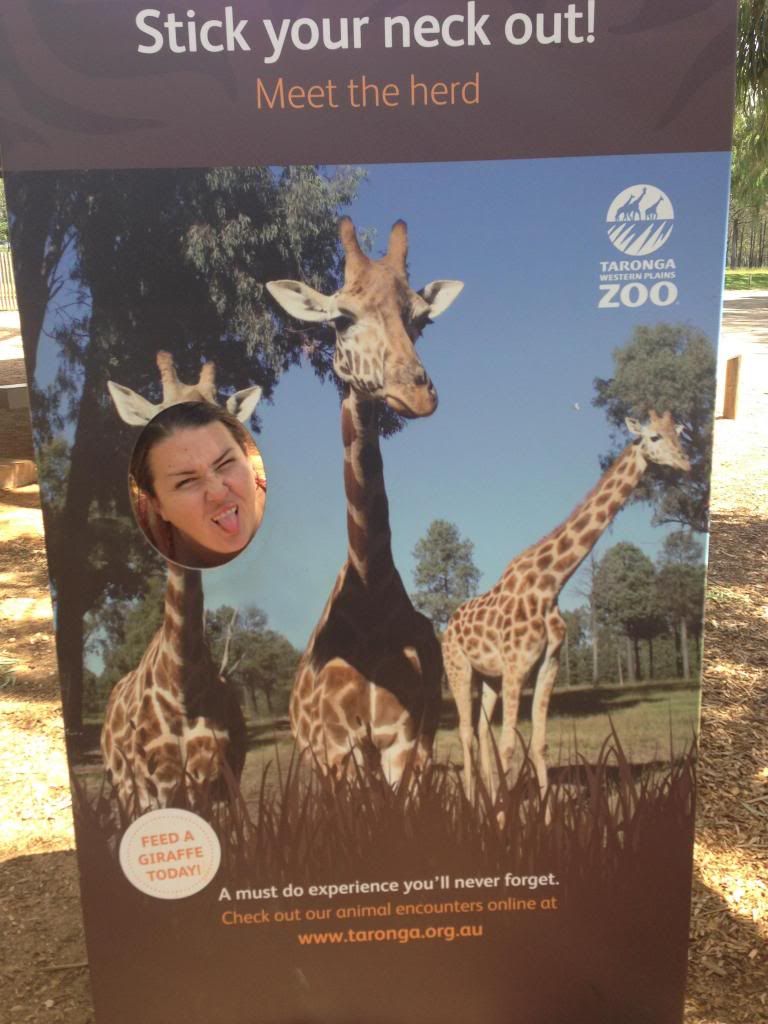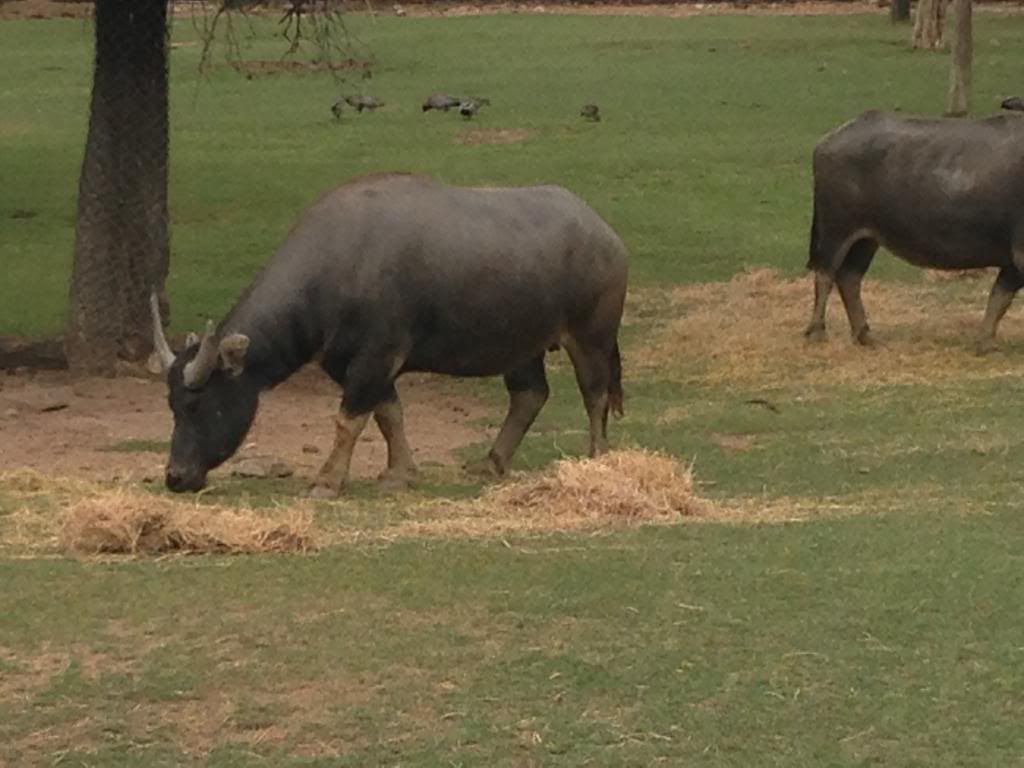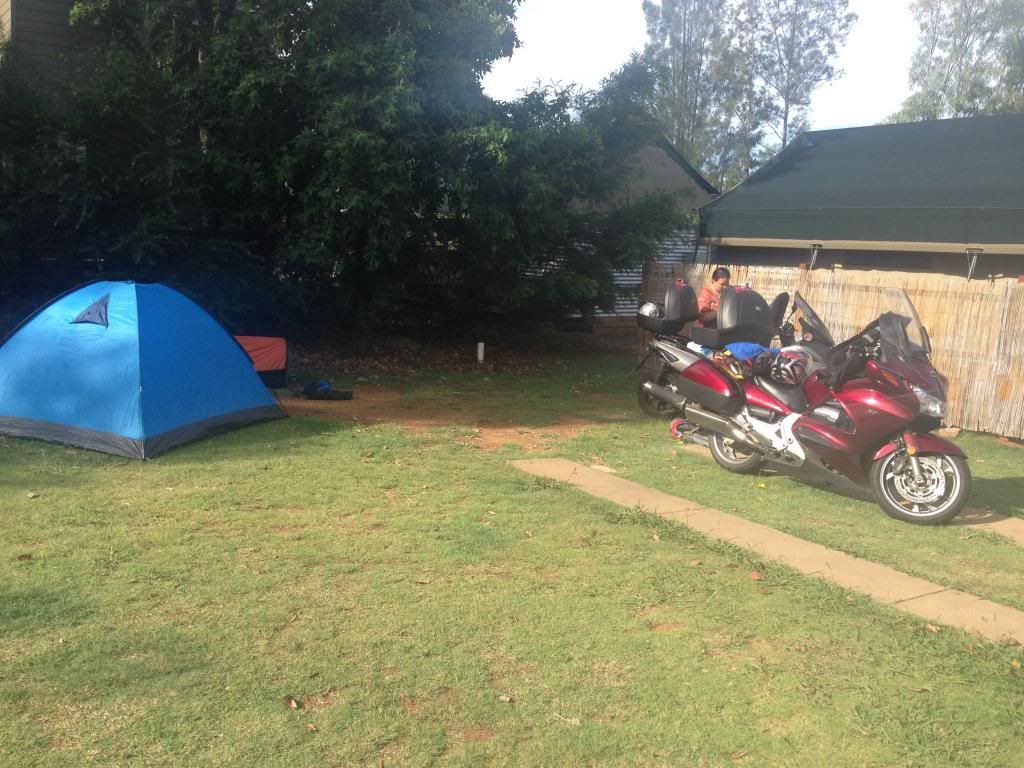 19th March
Back to the zoo!
https://goo.gl/maps/fpxKB
We spent 4 more hours at the Dubbo Zoo, and after lunch decided we better get back on the road so we could make Wagga Wagga for the night.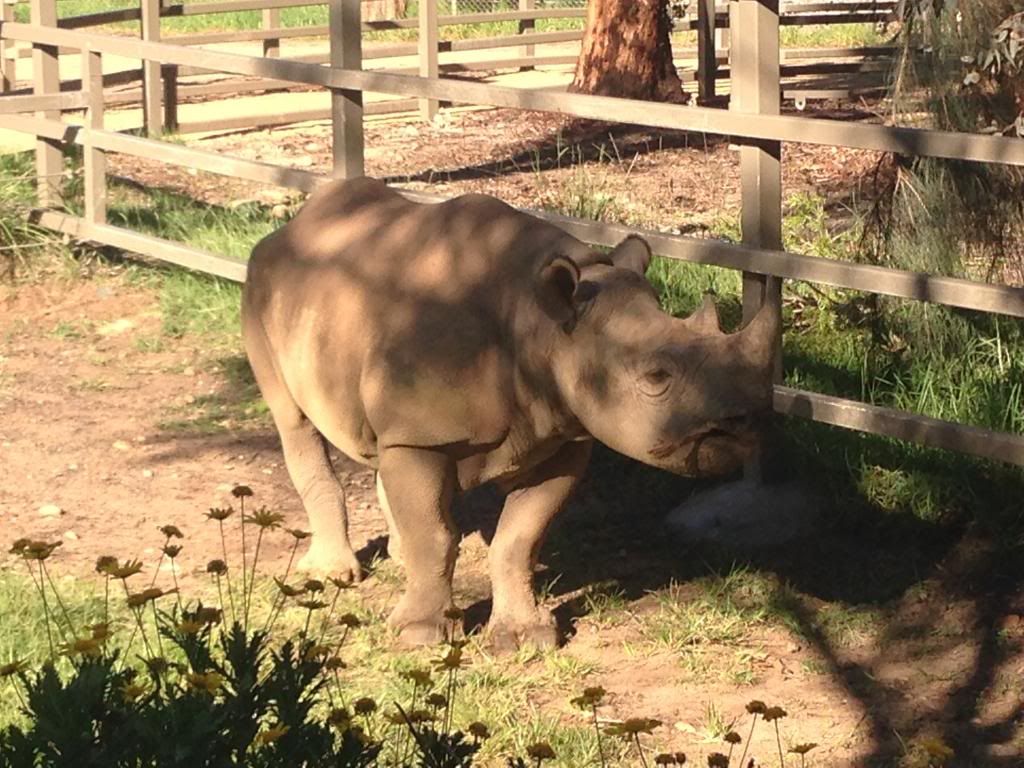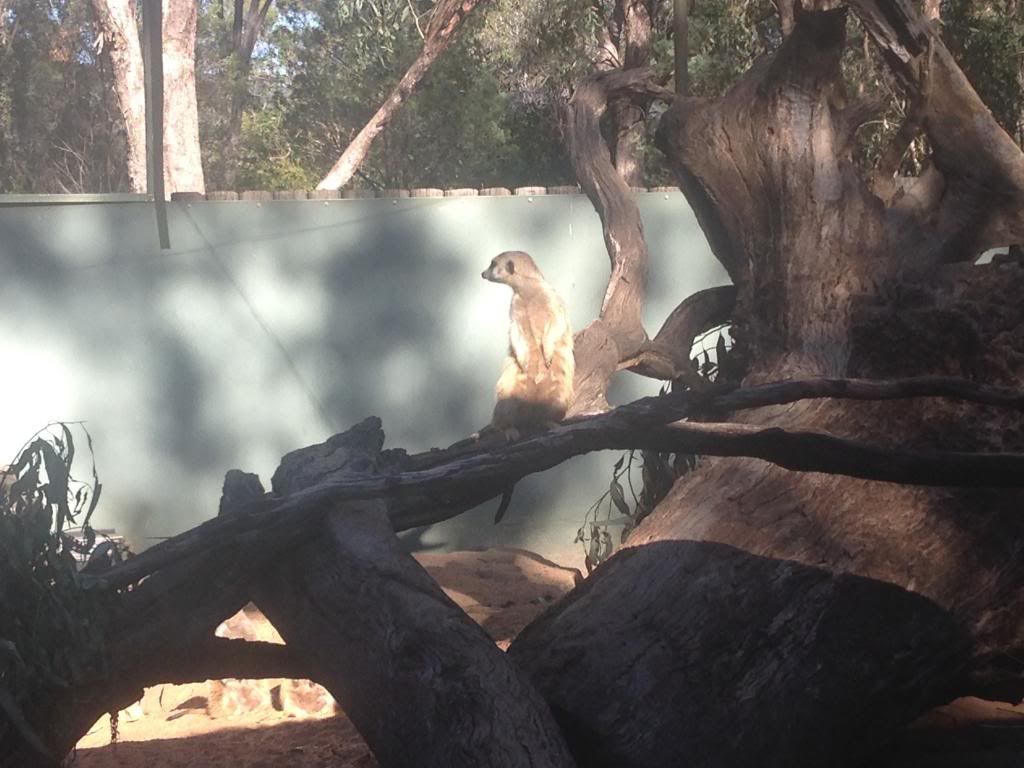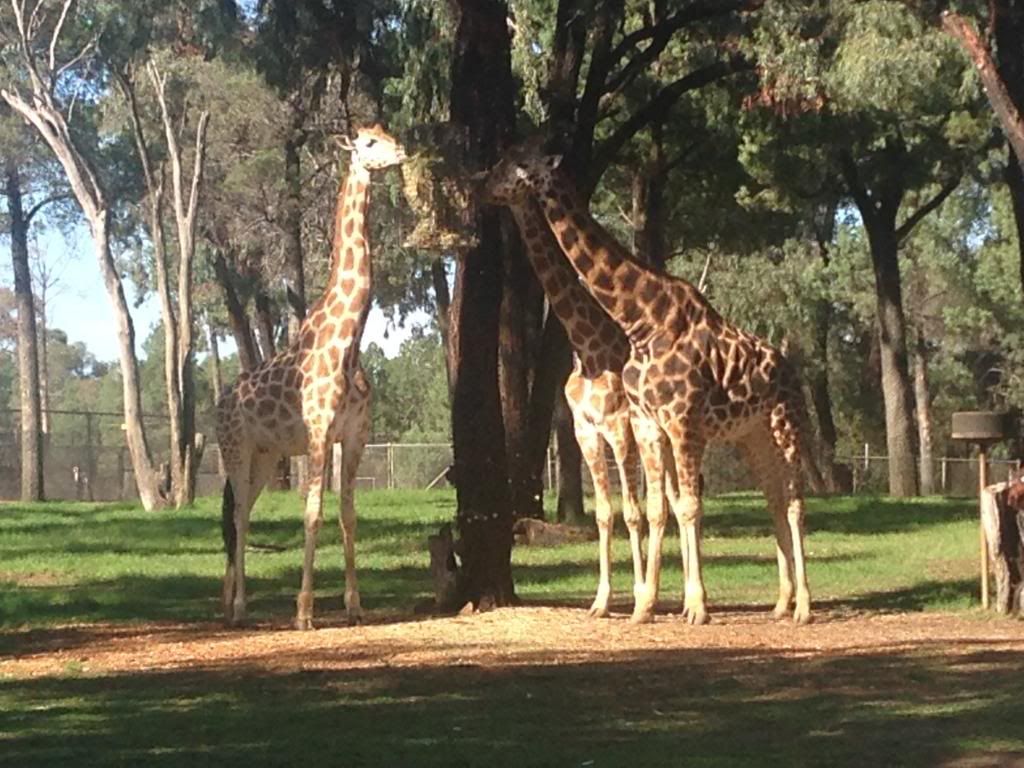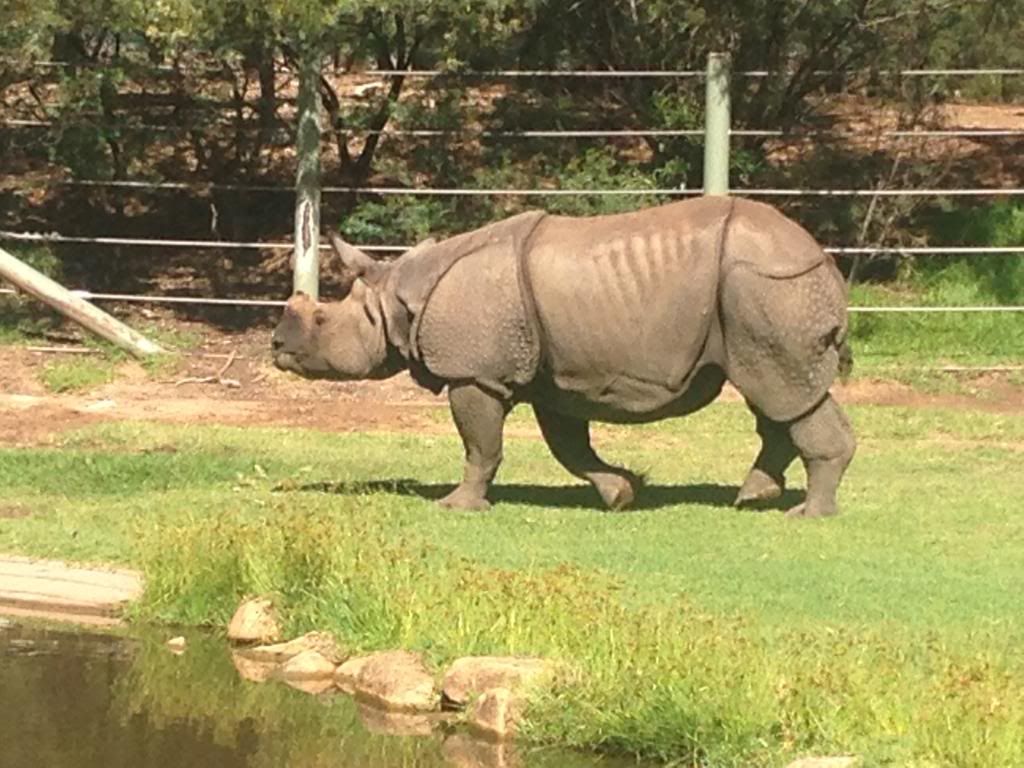 A nice uneventful day, with wonderful riding weather (well, all the weather has been good so far).
We managed to get into Wagga Wagga before dark, but instead of camping we decided instead of the $30 for an unpowered site for the night we managed to get a motel room for $65.. Basic old room, but all we wanted was a hot shower & a bed.
19th March
Wagga Wagga to Bairnsdale
https://goo.gl/maps/jNKw8
We left Wagga Wagga early, and headed to Albury for a nice breakfast at a local café, and a quick stop at supercheap to grab a multi-tool so I have a knife to fix my helmet.. it had been digging and hurting my forehead on the long days, so I smoothed it where it was affecting me.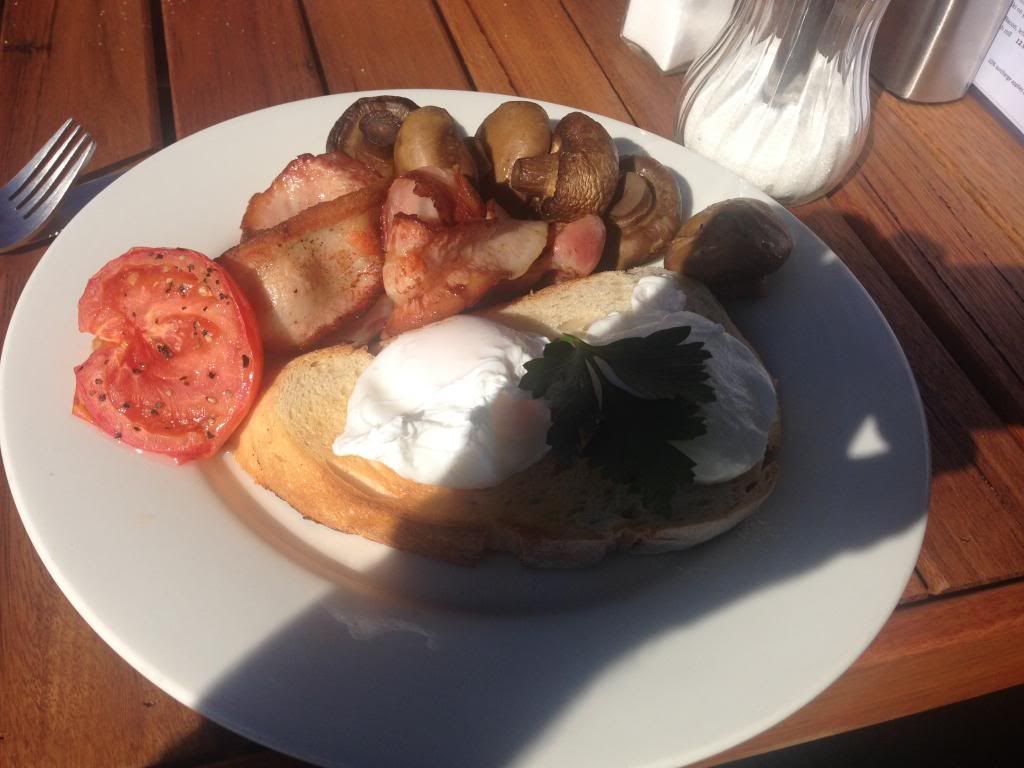 Then it was off via the Great Alpine Road for a nice relaxed day of touring (or so we thought).
The run was lovely, lots of nice road, lots of great scenery.. Megan got a little nervous on the sections of road that had the sheer drop next to the road so we took it slowly for the rest of the trip until back down the hill…





Had the scooter loose its exhaust mount springs & clamp bolt somewhere during the days riding, and 20k out of omeo the muffler came loose and scared the poo out of Megan. Tied it back onto the bike with a bit of electrical wire and limped it into omeo, where I managed to get the only packet of metric bolts in M8 that the hardware store had, and some fencing tie-wire and tied the system back together.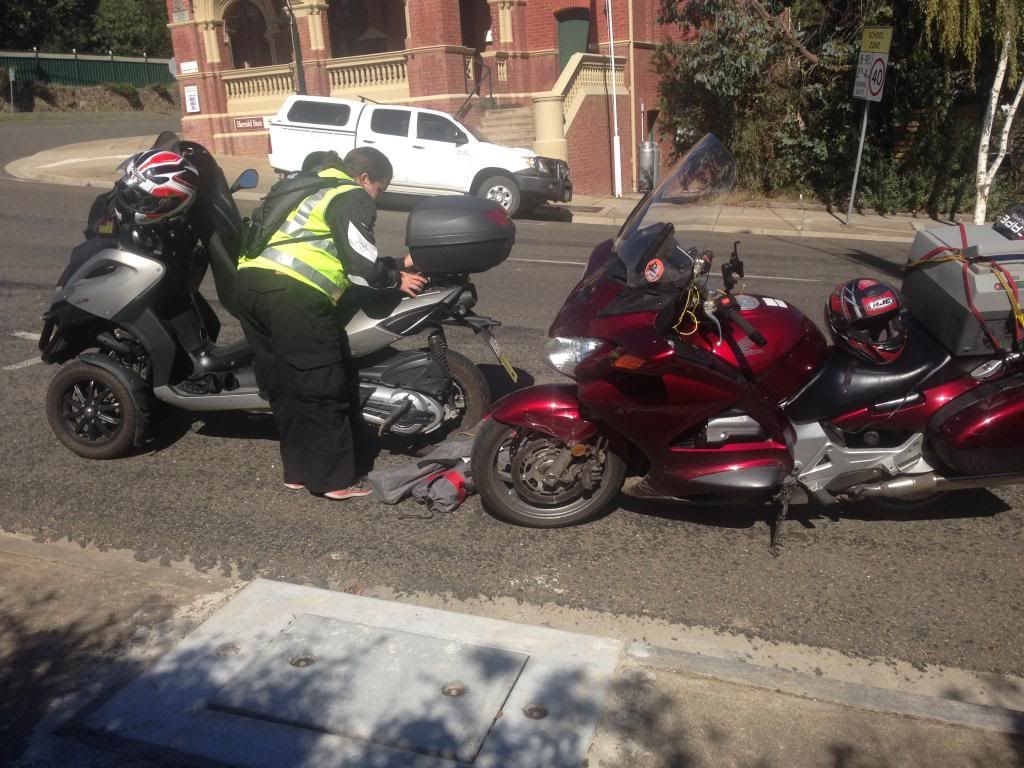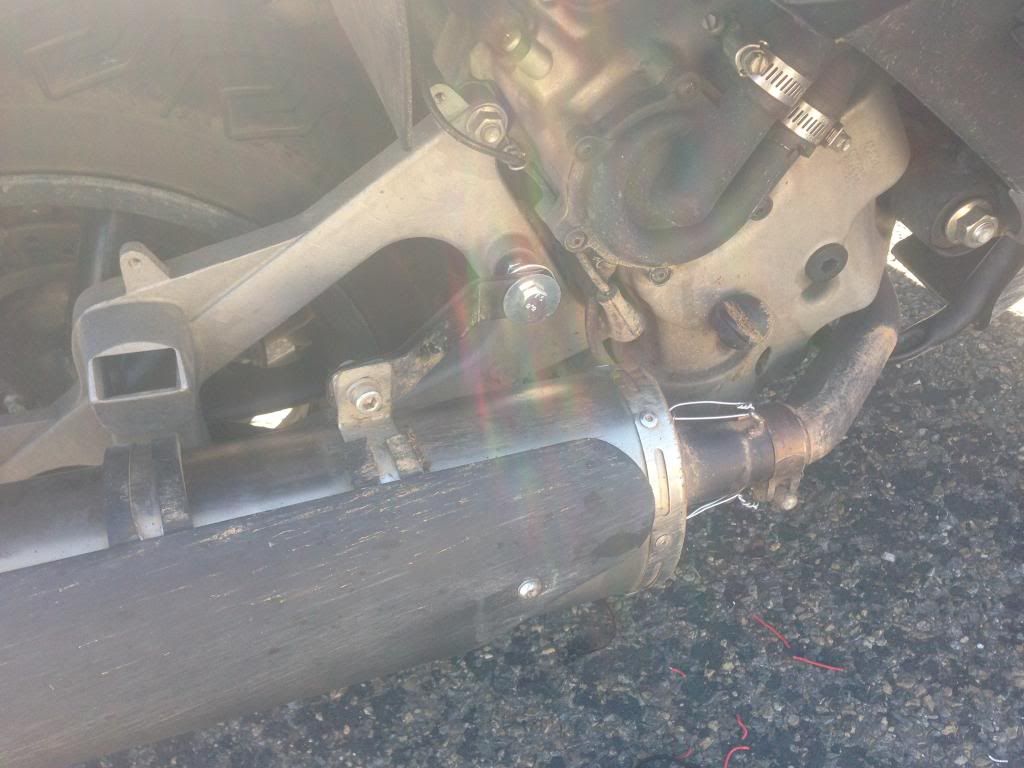 Amongst the chaos of the repairs, we forgot to refuel the scooter in omeo, and 10k prior to the next fuel stop it started to run funny, so filled it up from the reserve fuel and continued on to Bairnsdale, went to get a site at the Big 4 Caravan park only to find the office had closed. (6pm).. we went around to the other caravan park in town and grabbed an unpowered site and went to setup for the night, where we came across a BMW Rider who was traveling around Victoria, and another couple who had been traveling around Victoria on their scooters. After chatting for a while we grabbed some dinner and sat around and relaxed for a while then off to bed.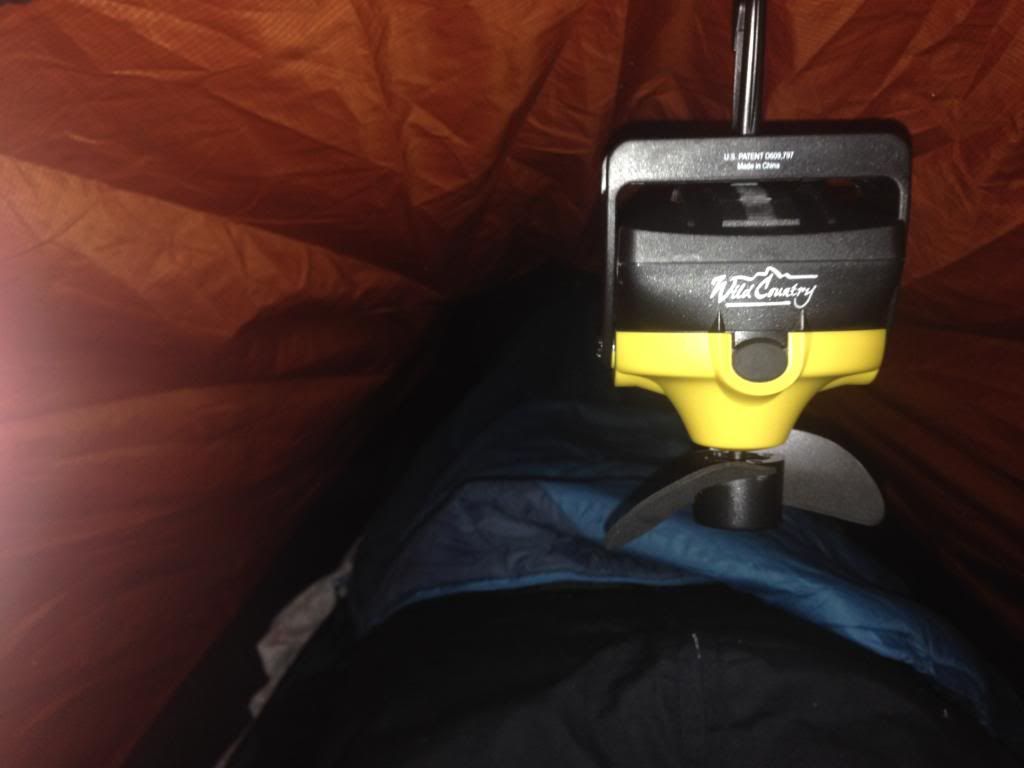 20th March
https://goo.gl/maps/Nfakp
Bairnsdale – Ballarat
Was a nice run to Ballarat, running in between storms for most of the day and didn't get wet... no problems other than Megan's scooter seemingly running out of fuel after 160km travelled since the last refill when heading into Ballarat. We just assumed we copped a bad batch of fuel, topped it up and it ran ok.. got into Ballarat as the temperature started to drop..
After arriving we were met by the regular OzSTOC crew, unpacked our bikes and went and met everybody…
21 March
Got a little cool for the morning rally...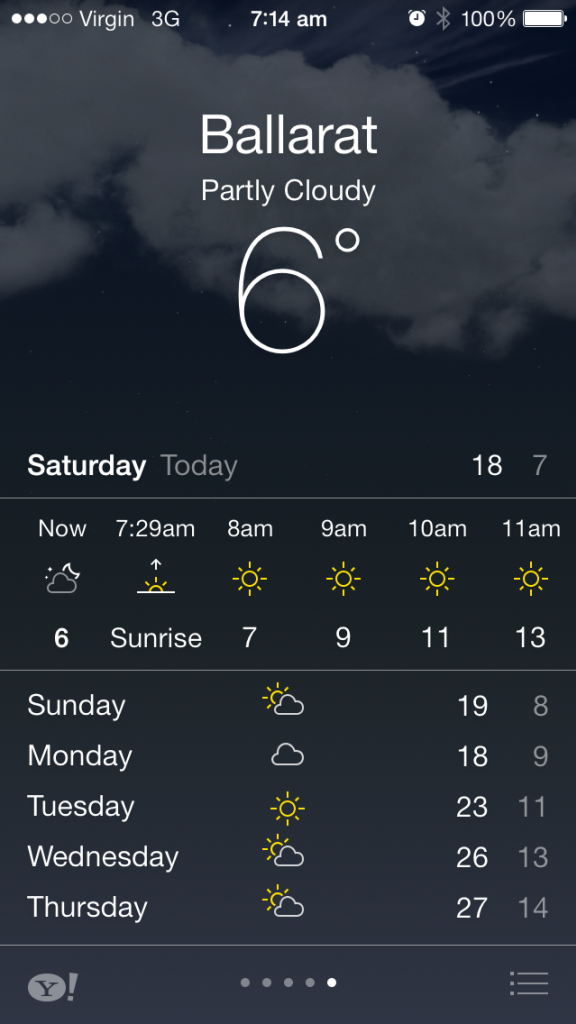 Too damm cold for a North QLDer..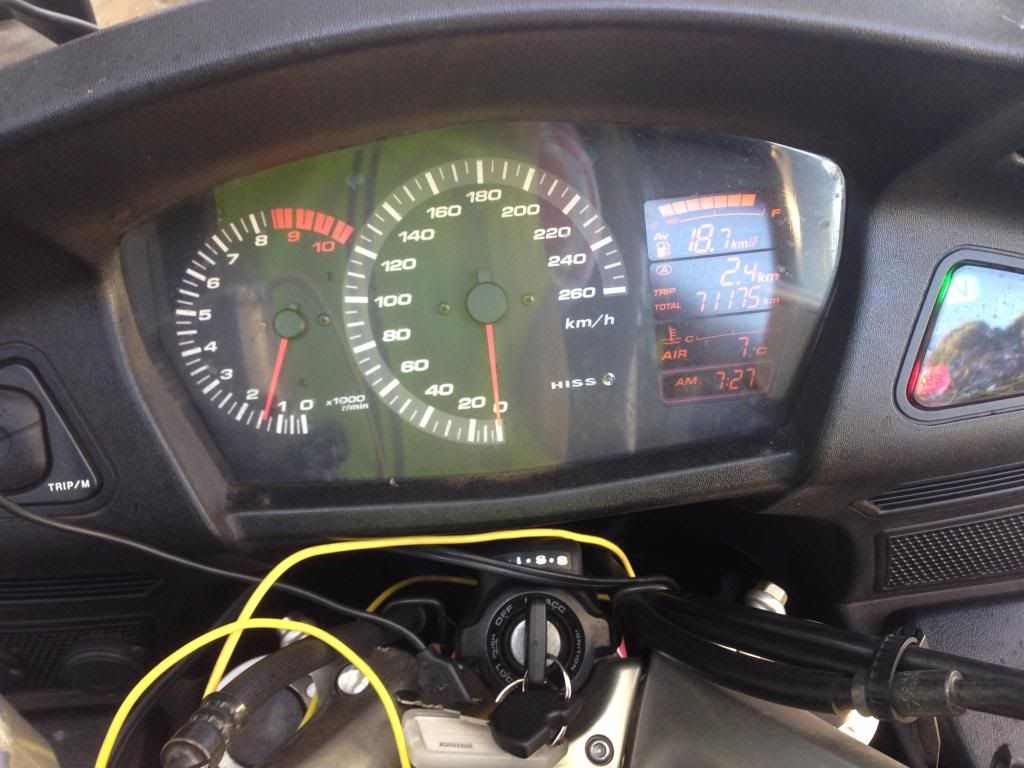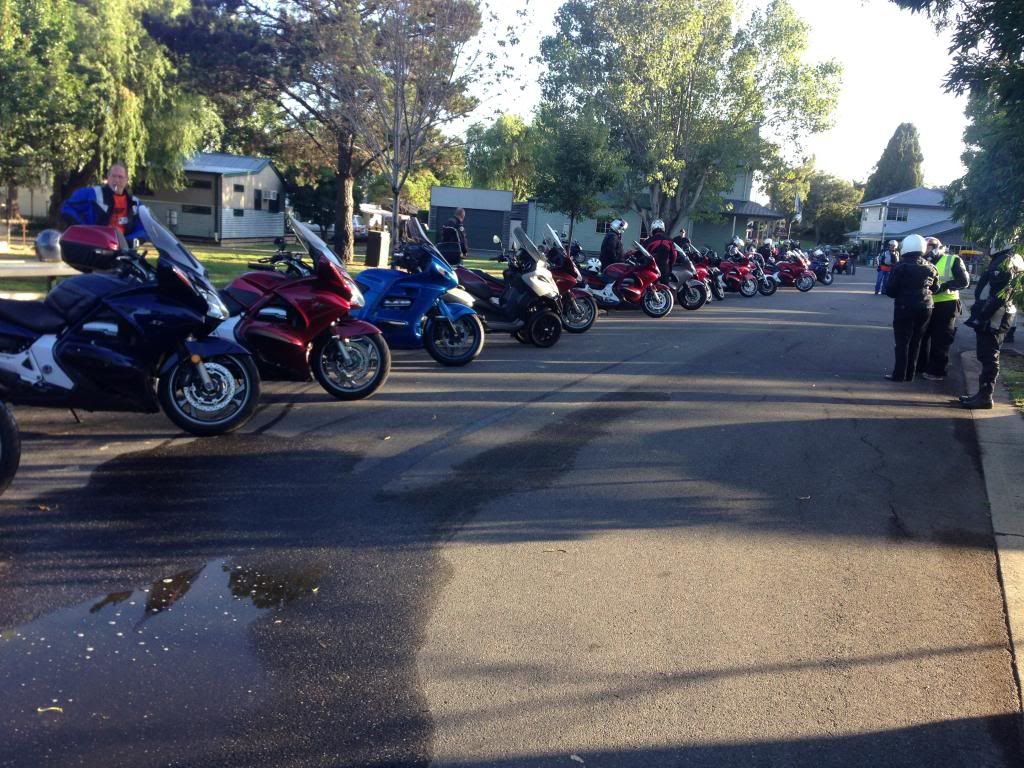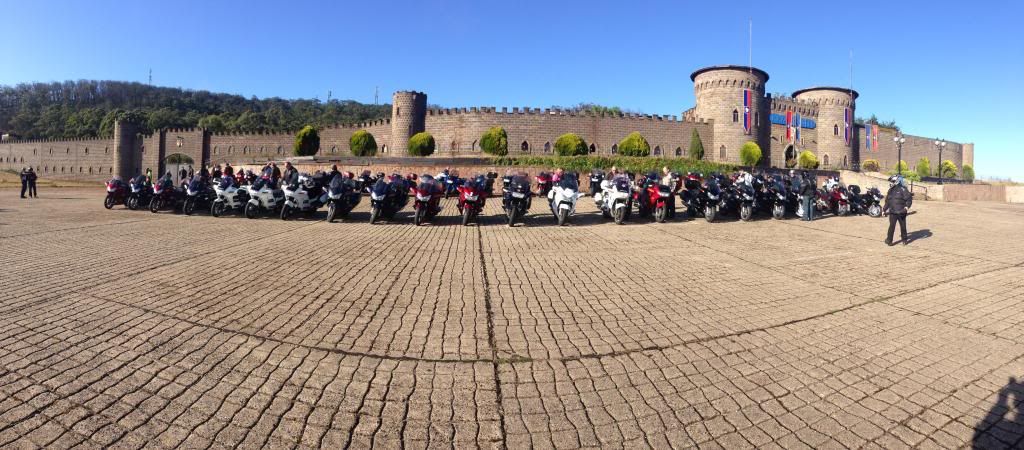 I forgot to get photos at the pub after lunch.. oh well, plenty of others....
I'll post part two, the return trip when I get a chance..